Polymer Processing Laboratory
Polymer Processing Facilities at SPRC
---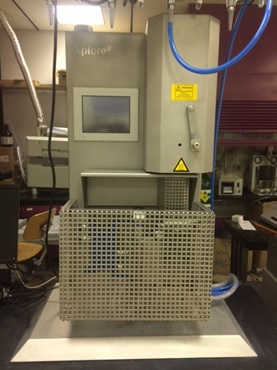 Xplore Micro-compounder with Extruder Line
Xplore's high quality, co and/or counter rotating twin screw micro compounders are fully fledged material processing instruments that fit on a laboratory bench or in a fume cupboard. The core of the compounder is a vertically positioned, liquid-tight barrel with two easily detachable, conical mixing screws. High quality well mixed relevant rheological results best suited for lab scale mixing.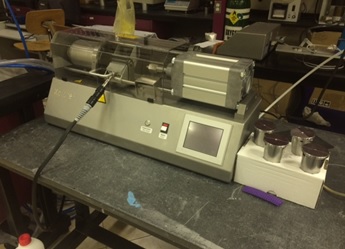 Xplore Micro Injection Molder
The Xplore micro injection molders allows to test and evaluate new or expensive materials and formulations in a very reliable, reproducible, fast and cost-effective way with very small amounts of test material. It has various dies with international standards for the testing purpose.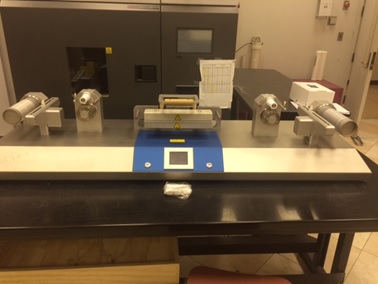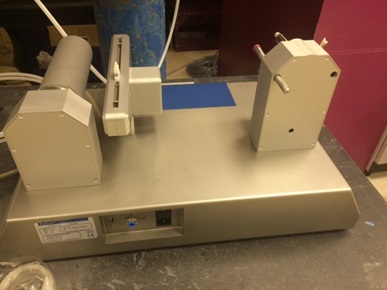 Xplore Micro Fiber Line (FL)
The Xplore micro fiber line (FL) can produce mono or multi filaments filaments from just a few grams of material. The micro fiber spin line is fully compatible with the high precision micro compounders and extruders. Cutting edge laboratories use the FL to make maximum use of synthesized materials and (costly) additives and to save the development time. The speed, overlap pitch, heating modes and other settings can be adjusted to produce diverse types of fibers. There is a stretching line with a heating facility to stretch the fiber to a more finer one.
Xplore Cast Film Line
The cast film lines produce flawless cast films from only a few grams of material. Fully compatible with our micro compounders, they are particularly beneficial when only small amounts of material are available or when using expensive polymers or additives. Representative film is obtained within few minutes to speed your screening workflow. It can process films of different thickness and with extreme lengths to meet the test requirements.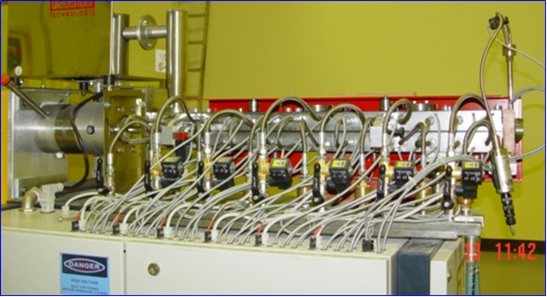 Twin-screw Extruder Farrel FTX 20
Farrel's FTX20 is a co-rotating laboratory sized twin-screw extruder designed for compound development. The FTX20 is perfectly suited to a laboratory, pilot plant or small scale production line. The FTX20's nominal production rate is 20-25 kg/hour and is versatile as well as energy efficient. The FTX20 is adept at processing an extremely wide range of compounds with fillers, additives and color master-batches, polymer-elastomer blends and applications requiring high intensity mixing with the lowest processing temperature.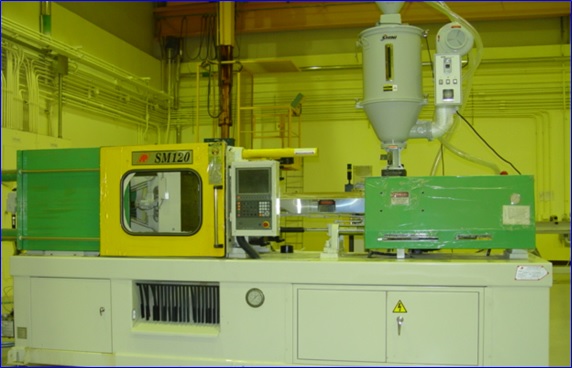 Injection Molding Machine SM-120
The machine (Asian Plastic Machinery Co., Double Toggle IM machine, Super Master Series SM 120) could be used as pilot equipment to make flawless standard specimen for testing according to the international standards.
Blow Molding Machine (Chia Ming)
The machine is mainly suitable for plastic package being blown up from sides. The main characteristics of this machine is its simplicity and stabilization of operation. It can be used to study the effect of processing conditions on the blow molding items.
COLLIN Press
Laboratory Collin platen presses are used for preparing polymer sheets of various thickness for the optical or physical tests. It has applications in polymer materials, ceramic materials, composites and further specialities within a temperature range from 20°C to 300°C. It has high accuracy control in temperature and the hydraulic pressure applied in the plates.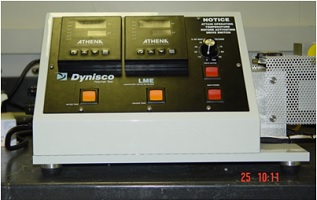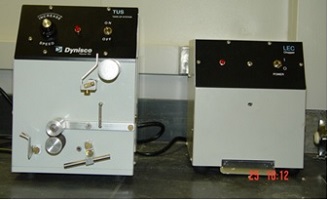 Lab Mixing Extruder LME Dynisco
The Dynisco Polymer Test LME Laboratory Mixing Extruder is a unique laboratory tool developed to evaluate the processability of a variety of plastics and rubbers prior to production. From very fine powders to coarse materials, the LME will meet many extruding needs. The rotational shearing of the LME system provides the mixing and can be used in the production of polymer blends or composites. Different dies and accessories allow us to produce samples suitable for diverse applications.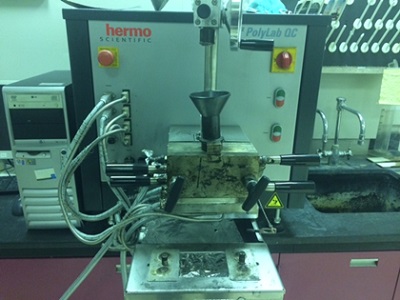 Thermo scientific Polylab QC
The Thermo Scientific HAAKE PolyLab QC is a new measuring mixer system that meets todays and future quality control (QC) needs. As the material's properties are very sensitive to temperature, the mixer chamber is separated into different sections and are individually controlled. The recorded "Rheogram" (torque and melt temperature vs. time at constant speed) can be used as a fingerprint in quality control for the outgoing and incoming product inspections. It is mainly applied for testing the performance of additives and fillers in matrix for a lab scale purpose.