The Director
---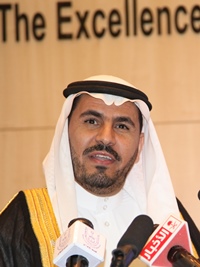 Professor Saeed M. Al-Zahrani
Director of SABIC Polymer Research Center
Email : szahrani@ksu.edu.sa
Phone: (+966) 11 4676783
Fax: (+966) 11 4679141
---
Professor Al-Zahrani has 20 years experience in catalytic reaction engineering research and Polymers including Directorship of SABIC Catalytic reaction engineering lab. His expertise includes Catalysis for petrochemical industries, Polymer synthesis and processing separation processes and supercritical fluid reaction and separation systems etc. He has published over 170 ISI papers in chemical engineering field in reputed journals and 22 Patents and 4 books. He is currently Director of the SABIC Center of Excellence in Polymer Engineering at KSU. He is acting as consultant for several petrochemical industries in Saudi Arabia. He is supervising 3 research groups' related Chemical Engineering fields. He is involved on multi research projects with local petrochemical industry International Centers and Universities. He is serving as a board member of Prince Sultan University – Riyadh and Member of Board of research advisory council for PETRONAS Technological University- Malaysia. He is a board member for the international advisory council at KSU. He has been selected as the First National Model and awarded with the STC Prize for the year 2013 on the national day of Saudi Arabia.
---
Award and Prizes
Emirates Energy awards 2015.

Awarded with the Prize for Inventors 2013.

King Abdul Aziz Medal of the Excellence Order for Wining 4 Patents, 2007.

King Abdul Aziz Medal of the First Order for Wining 3 Patents, 2005.

King Saud Unversity Golden Medal, 2008.

Abulhameed Shoman Prize for 2010 in the Engineerig Sciences for young researchers.

Best Patent Prize during the 10th Malaysian Technology & Innovation Expo, 2011.

Golden Medal during the 10th Malaysian Technology & Innovation Expo, 2011.

Silver Medal during Geneva Inventions 2011.

Golden Medal on Geneva ineventions 2009 & 2010.

Prize of His Excellency, Prince Bandar Bin Sultan : Ambassador of Saudi Arabia to U.S.A. for the excellent Academic Studies., 1994.

Prize of Distinguished Engineers in the Gulf countries, Bahrain , 2005.

King Saud University Gold Medal for obtaining 4 patents.

Tuition fees Waver during the Ph.D. studies from the University of Oklahoma, U.S.A. for graduating with GPA (4/4).
---